Looking to learn more about Relative TSR practices at your competitors? Radford's comprehensive data-driven market research offers valuable insights into market-wide and industry-specific design trends, which will help to ensure your Relative TSR program remains competitive.
Key Services
Comprehensive Database of Relative TSR Programs: Since 2005, Radford has maintained a comprehensive database of Relative TSR programs. Our researchers use multiple sources of information to populate this database, including special event filings, proxy statements and annual reports filed with the US Securities and Exchange Commission, news stories, and press releases.
All-Around Coverage: Radford's research on market practices covers virtually every aspect of Relative TSR plan design. From target payout percentiles and outperformance payout curves to the treatment of Dividend Equivalents to Change in Control scenarios, Radford consultants will keep you up-to-date on your competitors' award designs.
Radford Thinking – Relative TSR Plan Design Whitepaper: Relative TSR market practices and their implications for plan design are addressed in our Relative TSR Plan Design Whitepaper. For more information, or to discuss Relative TSR programs in greater detail, please contact us.
Aon's Global Relative TSR Survey
Aon continues to be committed to strengthening the linkage between pay for performance, and is focused on designing excellent RTSR plans with only the choicest data. Our global RTSR survey will focus on all regions, and will be a free add-on benefit for all of our existing clients. The annual survey will focus on specific design nuances that are not accessible through regulatory filings, and will highlight year over year trends.
Resources
Radford Research Content
This information was last updated on May 9, 2013.
Note: some figures may not sum to 100% due to rounding.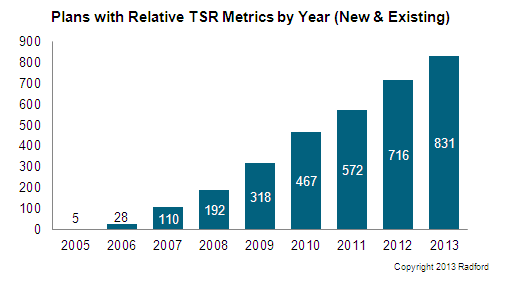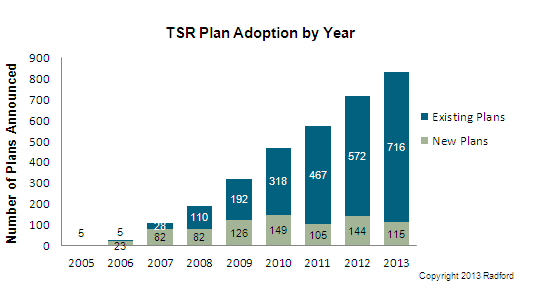 1. Important Plan Design Considerations
General plan design considerations include: (1) Length of Performance Period, (2) Stock Price Averaging Period, (3) Size of Custom Peer Group, (4) Percentile Ranking for Outperform/Threshold, and (5) Outperform/Target Payout Bendpoints.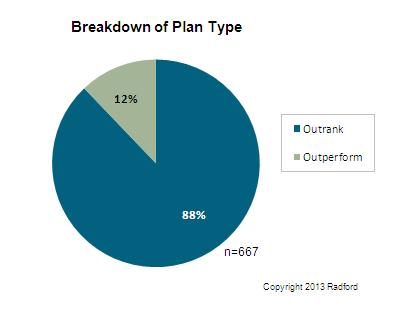 2. Prevalence of Peer Group Types (Custom vs. Index)
Radford has seen that the bulk of companies tend to use a custom peer group, but when using an index, the S&P 500 is most popular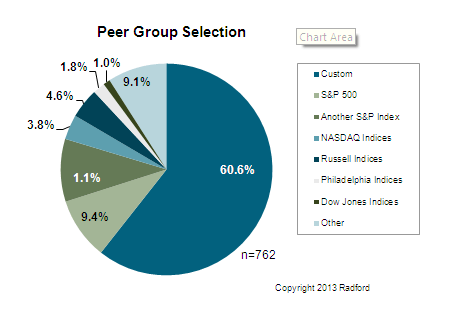 3. Prevalence of Payout Vehicles
Radford has seen that the vast majority of companies favor shares as the final payout vehicle.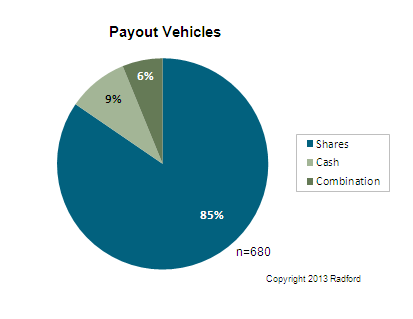 4. Treatment of Dividend Equivalents
Radford has seen a trend in that most companies prefer to pay dividends based on the final measure.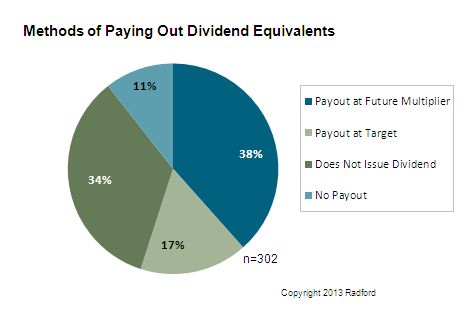 5. Other Research
For additional market data research (including Change In Control provisions, treatment upon termination/retirement, and industry-specific market practices), please contact us.