As the leading provider of compensation intelligence to the global technology and life sciences sectors for more than 35 years, Radford is uniquely positioned to assist private, venture-backed companies in innovation-based industries.
From initial start-up to IPO, Radford's market-leading data and consulting solutions allow private companies to implement robust pay programs that promote internal consistency, ensure external competitiveness, and align with investor interests.
Additionally, our diverse experience supporting human resources departments, consulting management teams, and advising Boards of Directors provides our team with the right mix of viewpoints to address the many diverse challenges faced by private, venture-backed companies and their investors.
From executive and broad-based compensation benchmarking to salary structure design to incentive plan implementation to overall equity program management to IPO preparation, Radford provides complete compensation coverage for private companies.
Complete Compensation Coverage
Radford's comprehensive private company approach allows our team to tailor offerings to meet the specific needs of growing companies at all stages of development. From data to design to strategy, Radford is ready to assist companies along the full spectrum of compensation challenges.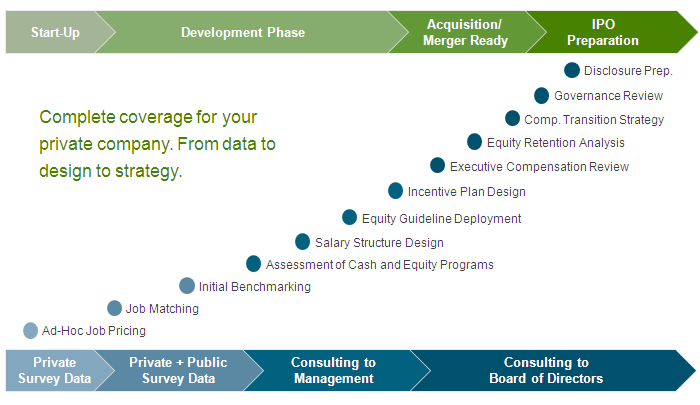 Private Company Services
Radford offers ventured-backed private companies a complete suite of critical compensation and governance solutions, including:
Radford Testimonials
"As a provider of growth capital to private companies, we oftentimes consider an IPO as a viable option for our partner companies. Over the past year, we have leveraged Radford's expertise in compensation consulting for three of our life sciences partner companies - Tengion (Nasdaq: TNGN), NuPathe (Nasdaq: PATH) and Advanced BioHealing, the latter of which was acquired on the day of pricing. Radford's unique approach and strategic guidance were excellent. They delivered strong, industry-specific, pragmatic solutions which covered Executive Compensation, Employment Contracts, Board Compensation and Equity Plan Strategy pre- and post-IPO. At Safeguard, we now consider Radford a key partner in our IPO strategic planning process."
"Radford partnered with our management team to develop an equity strategy that balanced the needs of our venture capital partners, outside investors, management and employees. We used the Radford Pre-IPO/Venture-Backed database to examine our competitive position against companies of a similar stage and investment profile to develop a fact-based analysis and go-forward program that gained full Board approval. Radford's team brought their industry knowledge and experience to the table, in addition to investing the time to learn about our unique history and culture in order to develop a solution that worked for Five Prime."
"Radford recently provided one of our portfolio companies executive cash and equity compensation consulting support that was industry-focused, consensus-driven and showed a deep understanding of the issues associated with private venture-backed companies. Our Compensation Committee and management team were impressed with the caliber of Radford's work."